Our Team
Dedicated to Serving You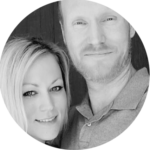 Jared Guichard, MD and Ashton Guichard, BSN RN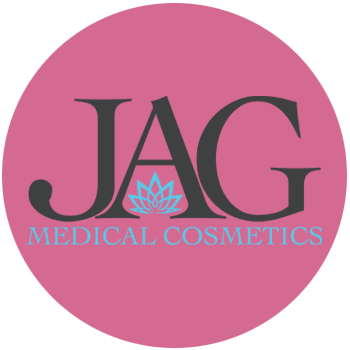 Youthfulness and Beauty
Try our exceptional service
Because you are worth it!
We are Jared and Ashton Guichard, together we created JAG Medical Cosmetics as a way to pursue our passion in the Aesthetics field.  Over many years of experience, we have provided quality, affordable, and focused care to all our clients. Our ultimate goal is to create long term relationships by providing knowledge and expertise.  We have developed a model that makes our clients feel supported and in turn more confident in themselves.   JAG Medical makes aesthetics accessible to everyone on any budget.   We can help develop a plan to help our client's outward appearance match their internal youthfulness and beauty. Our practice is dedicated to providing our clients with beautiful, natural-looking results without looking overdone or unnatural. We are committed to providing the highest quality care, services, products and expertise. Every appointment is a private, comfortable, no pressure, one-on-one experience with a highly knowledgeable staff member.  Our commitment to our patients promotes a lasting, and most important, trusting relationship. We understand that beauty is more than skin deep.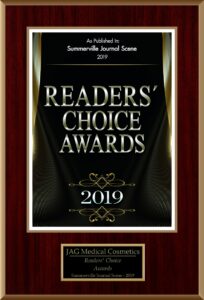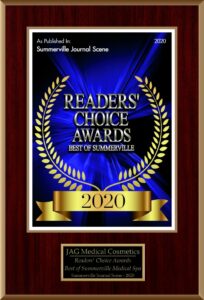 Botox/Xeomin
– Glabellar/Frontalis (between the eyes and forehead)
– Lateral Canthal Rhytids/Crows feet– Eye brow lift
– Face slimming injection (masseter)
– Smile lines
– Lip flip
– Chin sculpting
– Gummy Smile correction
– Nasal lines (Bunny Lines)
– Neck
Dermal Fillers(Products Vary based on treatment areas)
– Lips
– Tear Troughs (Under the eyes)
– Marionette Lines (smile lines, mouth lines
– Jawline
– Cheeks
– Temples
– Neck and Decolletage
– Hands
Polydioxanone (PDO) Thread Lift
– Non-surgical face, neck, and body lift
Plasma (Fibroblasting) Pen
– Improve fine lines and stimulate collagen production
Spot Fat Reduction
– Remove excess fat from localized areas using Kybella/PCDC
Skin Pen Microneedling Device
– for skin tightening, improve fine lines/wrinkles, improve dark spots, reduce pore size
Hair Restoration: Using autologous growth factors
– Renew and restore hair with the use of your own autologous growth factors. This is a non-surgical approach to hair growth.
Chemical Peel Skin treatments
– Promotes skin turn over for more youthful appearing skin
– Use for acne, dark skin spots, oily skin
Oxygenetixs foundation makeup for post procedure care or daily use
Metabolism/Weight Loss:
B12 shots
IV vitamin/mineral therapy
IV Therapy Packages
– Immunity
– Beauty
– Advanced athletic hydration and recovery
– Hangover
– Metabolism boost
– Prenatal
Concierge Services
Botox/Filler/IV fluids Home or Spa Service
IV Therapy supplements available:
Glutathione:
Reduces oxidative stress and free radical formation which are precursors to multiple diseases like cancer, arthritis, heart and liver disease
Used medically in the treatment of psoriasis and for skin texture and tone
Improves fat burning and insulin resistance in pre-diabetics
Improves blood flow and circulation
Used medically in the treatment of Parkinson's disease
Helps fight autoimmune disorders
B vitamin Complex: B1 (Thiamine), B2 (Riboflavin), B3 (Niacin), B5 (Pantothenic acid), B6 (Pyridoxine), B7 (Biotin), B9 (Folate), B12 (Cobalamin)
B1: important for nervous system and cardiovascular system maintenance
B2: important in the metabolism of fats/protein/carbohydrates
B3: helps with digestion of nutrients, promotes skin health, reduces cardiovascular risks, reduces inflammation,
B5: helps manufacture blood cells, responsible for metabolism of fats/protein/carbohydrates
B6: Improves mood/memory, creates neurotransmitters, reduced cardiovascular risk, reduces inflammation,
B7: important for healthy hair, skin, and nails
B9: red blood cell health, DNA synthesis, fat metabolism
B12: nerve and red blood cell health, DNA synthesis, fat metabolism
Minerals:
Chromium: enhances fat/protein/carbohydrate metabolism, improves insulin sensitivity
Copper: essential for proper immune function, maintains healthy bones, prevents cardiovascular disease
Magnesium: involved in hundreds of biochemical reactions in the body, increase exercise performance, benefits blood pressure and diabetes, anti-inflammatory
Manganese: powerful antioxidant, reduces inflammation, prevents chronic disease, healthy bone development, wound healing
Selenium: powerful antioxidant, reduces inflammation, prevents chronic disease, improves immune system
Zinc: important for immune function, wound healing, metabolism, reduces risk of chronic diseases
Vitamins:
Vitamin C: multiple benefits with digestion, immune function, collagen formation, maintenance of bones and teeth
Vitamin D: important for bone health, reduces risk of cardiovascular disease, chronic diseases, prevents infections. Improves mood, boosts metabolism
Odansetron (Zofran)
Used medically to treat nausea and vomiting
Famotidine (Pepcid)
Used Medically to treat acid indigestion and acid reflux disease
Ketorolac (Tordol)
Strong anti-inflammatory and pain reducer
Please note that this is a dynamic list of services and our available services will continue to grow.  Our recommendation is to contact us by phone or email if you have any questions about our services and check for availability as some products can be seasonal or out of stock.  The cost of services varies greatly due to specific client needs, monthly specials, valued customer/membership pricing, cost of products, and product availability.  Here at JAGMedical Cosmetics, we are more than willing to give you the time you deserve to answer all your questions as conveniently as possible; however, face to face consult maybe necessary to give the most proper assessment.